GM Vitabri Canopies are used in a multitude of contexts. It's amazing the uses people put the canopies to. Everything from craft fairs to ploughing championships from fishing competitions to school crossings our Vitabri Canopies are sure to be found. Our market is ever expanding because we have the right quality, service and value for money.
Common uses include: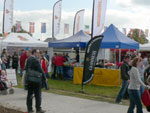 Farmer's Markets
The proliferation of Farmers's Markets has provided an alternative direction and an important income supplement for 'farm families'. GM Canopies is pleased to play an active role in the social and economic changes facing our proud and diverse way of life which is agriculture and animal husbandry.
Hotels, Leisure and Tourism
GM Canopies are at the forefront of canopy supplies to the Hotel and Leisure industry. Our canopies are ideal for smoking areas, dining facilities and providing that extra space for special events. With our 'digital print' service we can promote your business or event at a minimal cost.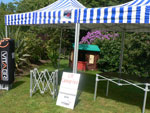 Town Centre Management
The revitalisation and upgrade of town and city centres is an important feature for Town Centre Commercial Managers. GM Canopies have been involved with town centre image change in both Northern Ireland and the Republic of Ireland for many years.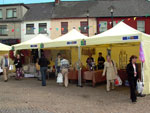 Biodiversity
Many progressive Local and District Councils have established 'Biodiversity Departments' to improve environmental awareness. GM Canopies are playing their part in assisting change. Vitabri canopies are used by local authorities to promote the 'Biodiversity' message.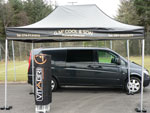 Funeral Directors
Providing a progressive and quality funeral service is a priority for all professional Funeral Directors. GM Canopies believe that the provision of a quality shelter for bereaved relatives during inclement weather conditions is an extension of this service.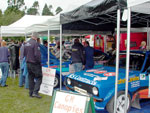 Motorsport
Vitabri canopies, distributed by GM Canopies, are extensively used by the Motorsport industry. One of the many advantages is that the canopy can be deployed in less than 60 seconds.